Rod Armstrong, Secretary-Treasurer
Lincoln, Nebraska
Rod Armstrong is the President and CEO of Armstrong Enterprises, a consulting firm specializing in professional and creative writing.  In this role, Rod is leveraging a wealth of writing experience, having served as a speechwriter for two Nebraska governors, reporter for a digital publication covering entrepreneurs in the Midwest, and grant writer for non-profit organizations.
Prior to moving into his current position, Rod served in several roles with the AIM Institute, a non-profit organization focused on developing technology talent in the Omaha, Nebraska area.  Rod previously served as general manager of Nebraska.gov, the State of Nebraska's official Web portal.  Rod also spent 20 years in the public policy field in Nebraska's executive and legislative branches, and was the principal architect of legislation that created the Nebraska Information Technology Commission.  Rod is a native of Broken Bow, Nebraska, attended Kearney State College and is a graduate of the University of Nebraska-Lincoln.
James Calvin, Ph.D.
Professor, The Johns Hopkins Carey Business School
Columbia, Maryland
James R. Calvin, Ph.D., is currently professor of Management and Organizational Systems at the Carey Business School, Johns Hopkins University. He also serves as an Executive Board Member in the Center for Africana Studies in the Zanvyl Krieger School of Arts & Sciences at Johns Hopkins University.
James has consulted in the areas of executive leadership development, executive coaching and organizational development with Fannie Mae, Verizon, KPMG, GENCO Corporation, QVC, Xerox Quality Services, the Brookings Institution, the W.K. Kellogg Foundation, The World Bank, the Inter-American Development Bank, the Office of Personnel Management (OPM), General Accounting Office (GAO), NASA/Goddard and other organizations. He is currently the Moderator of the Mid-Level Managers Symposium at the Executive Leadership Council (ELC).
James is a reviewer for Human Resources (in Executive Coaching) and Advanced Management Journal (AMJ). He is engaged in leadership and management research and has published articles in a number of referred journal articles and authored book chapters. He is currently pursuing research in the areas of global leadership practice, learning organizations and on knowledge transfers and cultures in organizational systems. James has taught at New York University and Marymount Manhattan College. He serves as chair of the Academy of Management Membership Committee (AoM), the International Association for Community Development (IACD) and he is a member of the Executive Board of the International Society for Advancement of Management (SAM).
James earned a B.F.A. from the Rochester Institute of Technology. His M.A. and Ph.D. (with distinction) with a concentration in phenomenology, culture and communication are from New York University.
Sam Cordes, Ph.D.
Purdue University Extension (Retired)
Dr. Cordes' spent approximately four decades at major land-grant universities before retiring from full-time employment, from Purdue University. While at Purdue he served in several capacities including (a) Associate Vice Provost for Engagement (b) Founder and Co-Director, Center for Regional Development (c) Assistant Director and Program Leader, Cooperative Extension and (d) Professor of Agricultural Economics.  Subsequent to his retirement from Purdue, Cordes has been involved in a variety of consulting roles and has been a featured speaker at a number of conferences.
His career in higher education focused on rural policy and community and economic development. He is a native of South Dakota and received his undergraduate degree from South Dakota State University (SDSU) and his PhD in Agricultural Economics from Washington State University (WSU).  Prior to joining Purdue University, he held faculty and various administrative roles at the University of Nebraska and the University of Wyoming; and was also a Visiting Professor at the University of Wisconsin.  He began his academic career as a faculty member at Penn State University.
Cordes has been the recipient of a number of awards and honors including: the Distinguished Researcher Award from the National Rural Health Association, the Founders Award from the Rural Policy Research Institute, the first recipient of its Graduate Alumni Achievement Award from WSU, and the Distinguished Alumni award from SDSU.
Mary Emery, Ph.D.
Professor and Department Head
Brookings, South Dakota

Mary Emery is the department head for Sociology and Rural Studies at South Dakota State University. Previously Dr. Emery was the associate director of   the North Central Regional Center for Rural Development, Ames IA. Before that she directed the Institute for Community Development at Lewis-Clark State College in Idaho. Mary has worked in rural economic and community development for more than 30 years. Currently, Dr. Mary Emery works on a variety of initiatives related to rural development including co-managing a Coaching for Community Change Initiative, conducting listening sessions on entrepreneurship, and using the Community Capitals Framework in evaluation and program planning. Other ongoing programs include chairing the Great Plains IDEA transdisciplinary multi-university distance degree in Community Development.
She is a former president of the international Community Development Society and is the new editor of the Rural Studies Series sponsored by the Rural Sociological Society. Mary received her Ph.D. in sociology from Rutgers University.
Lindsay Hastings, Ph.D.
Assistant Professor, Community Leadership Development
Director, Nebraska Human Resources Institute
University of Nebraska-Lincoln, Lincoln, Nebraska
Dr. Lindsay Hastings serves as an Assistant Professor of Community Leadership Development and the Director of Nebraska Human Resources Institute, a leadership development organization at the University of Nebraska – Lincoln that pairs outstanding college student leaders with outstanding K – 12 student leaders in one-to-one leadership mentoring relationships. Her research interests include generative leadership and social responsibility, examining what factors influence a leader's ability to promote and establish the well-being of future generations. Hastings' most recent research examined generativity in college student leaders as a result of engaging in a mentoring relationship, which received the 2012 Dr. Ron Joekel Research Award.
Reshell D Ray
Associate Director, East Campus Programs
University of Nebraska–Lincoln
Student Involvement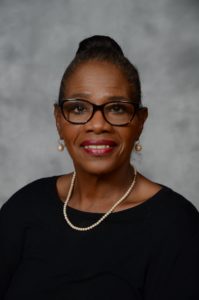 Reshell Ray serves as the Associate Director for Student Involvement at the University of Nebraska-Lincoln. Student Involvement creates and models inclusive environments where students find opportunities for personal and professional development. She works to  integrate in-class and out-of-class learning to provide positive experiences through programs, services, and events.   Reshell holds a Master's Degree in Community and Regional Planning from the University of Nebraska. She served as the Management Analyst for the City of Pacific, Missouri. In that capacity, she worked closely with the Planning and Economic Development Commissions. Reshell has served as a Community Development Consultant for over 25 years in Urban and Rural communities throughout the nation.  Currently, she is the Associate Director for Student Involvement at the University of Nebraska-Lincoln. She works to create and model inclusive environments where students find opportunities for personal and professional development. She works to integrate in-class and out-of-class learning to provide positive experiences through programs, services, and events.
Craig Schroeder, President
Community Development Consultant
Lincoln, Nebraska
Craig has committed his career to helping communities create more prosperous futures; working as a local economic developer, rural telecommunications policy leader, Executive Director of the Nebraska Rural Development Commission, Senior Fellow with the Center for Rural Entrepreneurship, and President of the Heartland Center for Leadership Development. He has also served on several prominent state and national rural development boards and commissions during his career.
Craig's work extends across 47 states involving well over 45,000 youth, and in Canada, Australia and Russia, helping community leaders, educators and economic development professionals implement effective youth engagement, workforce development and entrepreneurship strategies. Closer to home, Craig created the Youth Attraction Formula© to help rural communities in the Great Plains set attainable goals for addressing chronic youth out-migration and population loss. In 2007, Craig was a contributing author for a textbook on entrepreneurial development published by Lexington Books. His work has been published in Great Britain as one of five content experts globally for a study by Youth Business International, in Russia for the national Parliament, and in a variety of publications in the United States and internationally. In 2017, Craig was inducted into the Gregg Christensen, Nebraska Entrepreneurship Hall of Fame.
Craig holds a B.S. in Agricultural Economics with emphasis in Community Development and Marketing from the University of Nebraska.
(c) 2023 Heartland Center for Leadership Development